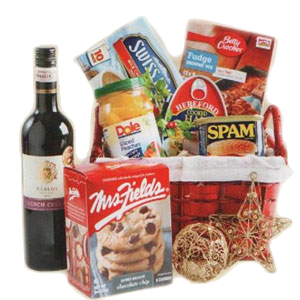 Send Christmas Gift Basket to Philippines
French Cellar Merlot 750ml, Dole Sliced peaches Fruit Jar 685g, Betty Crocker, Fudge Brownies Mix 519g, Spam Luncheon Meat Reg 120oz, Mrs. Fields Semisweet Chocolate Chip Cookies 9.5oz, Hereford Cooked Ham 18oz, Swiss Miss Milk Chocolate 10oz.
Note: Alternative substitution for items or container if unavailable.
NOTE
We reserve the right to substitute flowers that are not in season, likewise we also reserve the right for artistic variation of flower arrangements depicted in the photos.